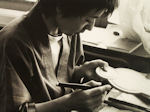 KENTARO SUZUKI (1981 - )
He is promising Buddhism craftsman. He was well trained as pupil under MUKOYOSHI YUBOKU who is one of the most famous Buddhism artisan, called Dai-Busshi (means great Buddhism artian).
He has many knowledge of special features about wood. I mean, he makes use of a wood's individual features such as the grain of wood. Because Japanese people love the grain of wood and pure appearance of material.
Because his works were paid by some temples. So we can see them at there.

He can make all kinds of Buddhism icons.
He doesn't use file or sandpaper. He uses various gravers only. All handmade, and all wood (no using a metal such as nails) . It's very sophisticated!!

To our surprise, he has abnormal power of concentration, he can make it about two weeks unless he accepts other reservations.
He is particular about "Made in Japan", and he's making it. He is exhibiting (museum, convention center and temple) his work in an exhibition actively.

He is also good at other wooden carvings.
And also he is opening a classroom of wood carving for kids now. It's very popular classroom among young mothers.